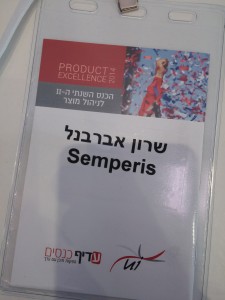 This week I took apart in the annual conference of Product Manager called Product Excellence. This is the second time the conference takes place and it may have more work to improve. The conference was full of lectures which meant to bring few daily topic of product management to the front of the stage (I listed the ones which I most enjoyed from):
Product Pricing Strategies and Optimization
Market Research Using Social Networks
How to Plan a Functionality of a "Kind of" Features
How to preserve growth Over Time
Product Management at Startups
Products Soft Attributes Management
Creating Relationships with Your Customers
and more…
So, there were about 700~ people, product managers who came to learn and develop their skills, It was a pleasure to see the growing community of product managers in Israel. I think I took few new tools to my toolbox and I hope to use them as soon a possible.